Che cos'è un certificato SSL Wildcard?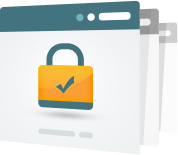 Wildcard SSL ti consente di proteggere un numero illimitato di sottodomini con un singolo certificato. È un'ottima soluzione per chiunque ospiti o gestisca più siti o pagine presenti nello stesso dominio. Il costo una tantum del certificato ti copre per ulteriori sottodomini che potresti aggiungere in futuro.
A differenza di un certificato SSL standard che viene rilasciato solo per un singolo nome di dominio completo, ad es. www.tuodominio.com, che significa che può essere utilizzato solo per proteggere il dominio esatto a cui è stato rilasciato, un certificato Wildcard SSL viene rilasciato su * .yourdomain.com, dove l'asterisco rappresenta tutti i possibili sottodomini.
Wildcard SSL è un'opzione disponibile per i certificati SSL DV e OV.
Certificate Features
Secure online transactions
99.9% Browser Compatibility
Our SSL certificates are from some of the most trusted brands in Online Security.



Powered by WHMCompleteSolution